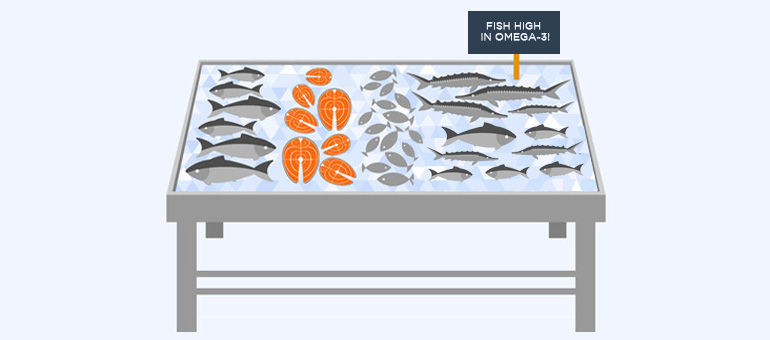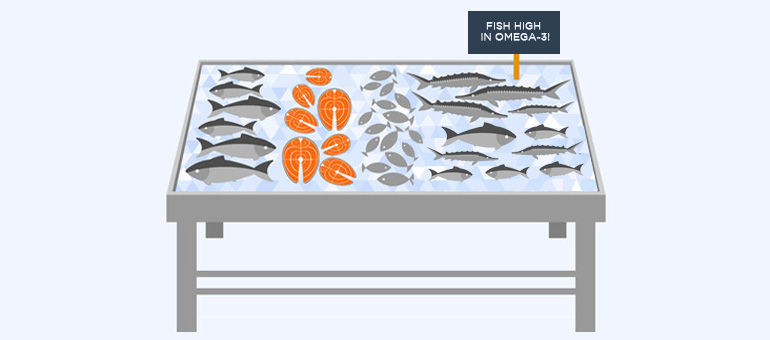 Fish consumption for healthy and balanced nutrition:
In Italy, we are witnessing the growth in the consumption of fishery products, bringing only a few years to the average European levels.
Feeding guidelines advise on the consumption of fish, with particular emphasis on fish rich in omega-3 fatty acids for its health benefits.
| | |
| --- | --- |
| Omega 3 (EPA e DHA) in the major fish products | g/100 g |
| Atlantic salmon, breeding, baked/cooked to the plate | 1.8 |
| European anchovy, in oil, dripping | 1.7 |
| Pacific sardine, in tomato sauce, dripped | 1.4 |
| Atlantic herring, in brine | 1.2 |
| Atlantic mackerel, baked/cooked to the plate | 1.0 |
| Rainbow trout, breeding, baked/cooked to the plate | 1.0 |
| * Swordfish, cooked to dry | 0.7 |
| * White tuna, preserved in water, dripped | 0.7 |
| Flat fish (sole, plateau), baked/cooked to the plate | 0.4 |
| Pacific or Atlantic halibut, baked/cooked to the plate | 0.4 |
| Atlantic cod, baked/cooked to the plate | 0.1 |
| Blue clay, cooked with steam | 0.7 |
| Oriental oyster, wild, baked/cooked to the plate | 0.5 |
| Sea scallop (different species), baked/cooked to the plate | 0.3 |
| Clams, of various species, cooked with steam | 0.2 |
| Shrimps, of various species, cooked with steam | 0.3 |

Source: USDA Nutrient Database for Standard Reference
* Beware of big size fish for their unwanted heavy metal content

Nutritional attributes and benefits of leaner fish:
The weekly portions (3-4) should not be wholly made of salmon or blue fish, but can also be alternated with leaner fish such as hake or tub gurnard, which have other nutritional characteristics and other benefits; among them we recall that:
are well digestible due to the low connective tissue content;
contain high-value proteins;
are rich in trace elements;
have a low content of histamine;
are often species coming from a short chain and in many local cases;
are small in size, so with low value of pollutants;
have low-medium prices;
do not require elaborate preparation.
Recall that exists a sustainable and clean European aquaculture industry that is emerging to meet the growing demand for fish products (1, 2). The fish caught will not be able to meet the world's food needs for a long time, without forgetting that the levels of pollution of the seas, rivers and lakes make it increasingly contaminated and with potential risks also for humans.
The NUTRI-lipidomic recipe:


Hake with ginger sauce:

Easy-to-prepare protein dish, which can be accompanied by vegetables and basmati rice (separately cooked).
Ingredients
hake/cod fillets 120-160 g per person
1 lemon
ginger root 20 g
extrav. olive oil 20 g (1-2 tablespoons)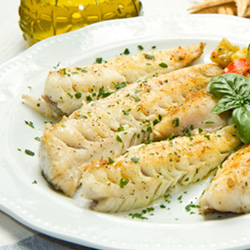 Preparation
Choose fresh Mediterranean hake herring to use fillets, or take some frozen Atlantic cod fillets. The portion can range from 120 to 160 g of "clean" product (per person).
Sauce's preparation
Use a root of ginger, peeled and grated. Put it in a bowl and mix it with oil, lemon juice and a pinch of salt.
Place the hake / cod fillets on a plate covered with the oven paper, sprinkle with the prepared sauce previously.
Heat the oven to 220 ° C and cook for 25 minutes.
Illustrative purposes only
Article by:
Nutritionist Dr. Francesco Bonucci
The diet tips, written in the article, are not intended to be a substitute for a personal nutrition plan and are to be adapted to specific cases.
Photo: 123RF Archivio Fotografico | ©studioworkstock,  43584488,  2017-07-11 | ©lsantilli, 14788552, 2017-07-11