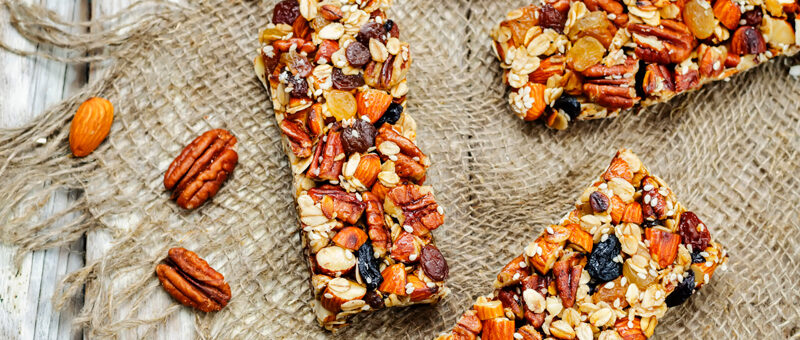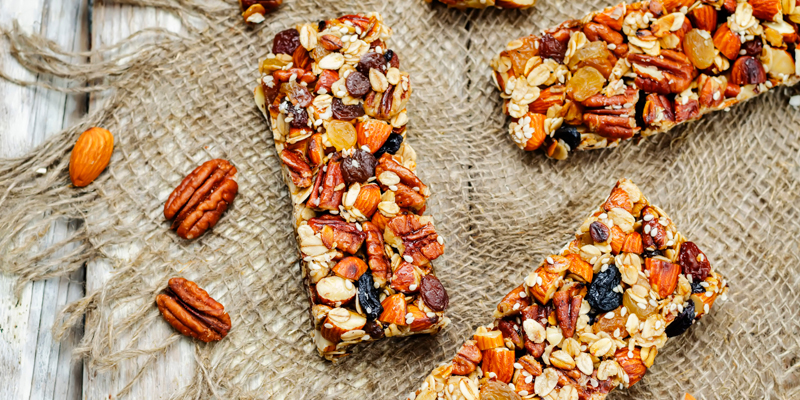 Consumption of industrial packaged products is becoming increasingly common among all age groups, from children to adults. Among the most widely purchased "hunger-breakers" are bars, the characteristics of which are many: protein, energy, meal replacement, etc. But in addition to these features, we must not forget to read the other information on the package: ingredient list and nutritional values (for the guide to reading food labels >> www.lipinutragen.it/en/food-labels/ ).
Since there are so many ready-to-eat bars on the market, why should we make them at home?
Reading the food label we will see an amount of added sugars in their compositions, a rather large share of saturated fats, the use of oils or other sources of pro-inflammatory fatty acids (omega-6).
It is understandable, therefore, that the way to avoid stumbling into an unbalanced lifestyle is to make homemade recipes, especially quick and simple ones, such as the one below.
NUTRI-LIPIDOMIC RECIPE:
LipiSNACK bar

LipiSNACK bars contain a wonderful mix of superfoods: whole grain oatmeal, puffed quinoa, oil seeds, goji berries, dehydrated fruit, fresh fruit puree, and crunchy dried fruit nuggets.
They are light and sweet just right, made with simple, natural ingredients and no sugar.
SUPERFOOD MIX: CEREALS, FRESH AND DRY FRUITS, OILSEEDS AND NUTS
Red berries, goji berries, pecans, flax, sesame and chia seeds combine with whole grain oatmeal and puffed quinoa to create a sweet and crunchy combination. These precious ingredients are blended together thanks to the pureed fruit, which adds an extra note of sweetness, and the "gluey" properties of the seeds.
In fact, chia and flax seeds, in the presence of water, form a real gel with extraordinary thickening properties.
Homemade bars are a real concentrate of well-being.
Ingredients for 10/12 bars
160 g whole grain oatmeal
50 g puffed quinoa
50 g pecans
15 g goji berries
20 g dehydrated red fruits (currants, blueberries, etc.)
100 g mashed banana (one medium ripe banana)
1 tablespoon white sesame seeds
1 table spoon of ground flax seeds
1 table spoon of chia seeds
2 tablespoons water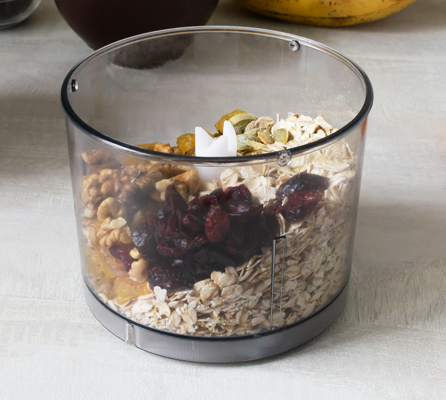 Procedure
In a small bowl, add the tablespoon of chia seeds, the tablespoon of ground flax seeds, and 2 tablespoons of water. Stir and let stand 10 to 15 minutes until a gelatinous mixture forms.
In a large bowl, weigh and combine the whole grain oatmeal and puffed white quinoa together.
Weigh the dried fruit, dehydrated fruit and oil seeds as per the recipe, and chop them coarsely with a knife. Combine everything with the grains.
Using a fork, reduce the ripe banana to a puree, adding a pinch of vanilla if you like (alternatively add cinnamon, ginger or other spices). Combine the mashed banana with the mixture formed from the chia and flax seeds. Combine the mixture with the remaining ingredients and with the help of spoon or a silicone spatula mix everything together evenly.
Preheat the oven to 160° and line a baking pan (size 17 x 22 cm) with baking paper. Pour the mixture inside, distributing it, with the help of a spatula, evenly and compactly. Bake for about 15 minutes. Check the surface; if it tends to brown quickly, it is recommended to lower the oven temperature, or cover the pan with aluminium foil.
After 15 minutes remove the pan from the oven, and "unmold" the mixture and transfer it by turning it upside down to another pan (even larger and flatter), again lined with baking paper. Bake again for another 15 minutes.
After the time has elapsed, take out the baking sheet, place the mixture on a cutting board or wooden surface, and with the help of a knife cut out bars of the desired shape (large, small, square, rectangles). Place the resulting bars back on the baking sheet and bake again for another 10 minutes (turn on both sides if necessary to get the crunchy effect).
Remove from the oven and allow to cool completely before eating or storing.
Storage: in an airtight jar or tin for 5 to 6 days.
For further reading we recommend the following insights on:
Article edited by the Lipinutragen Editorial Group.

Recipe created by Andreea Popa, Data Entry and Customer Care Account, cooking lover.
Dietary advice in the article is not intended as a substitute for a personalized diet plan and is to be adapted to specific cases.

Photo: 123RF Archivio Fotografico: 66029438 : ©natavkusidey | 181210626 : ©alkarnasia