Let's rediscover the ancient grains for a delicious Carnival recipe

Verna wheat, whose type 1 flour was used in the recipe, is a variety of wheat of Tuscan origin, rediscovered and re-evaluated thanks to studies that have highlighted its characteristics and nutritional properties, in particular the presence of flavonoids and others antioxidants and its positive effects on the blood lipid profile, compared to the more modern wheat varieties.
Carnival tagliolini (noodles) combine the nutritional benefits of this ancient wheat with the benefits of the good fats of extra virgin olive oil. Thanks to the use of spices and lemon essential oils, the result is a product is crunchy, fragrant and as tasty while respecting the health.
Carnival tagliolini (noodles)

Ingredients for 8 people (a nest of noodles per person):
200 g of Verna type 1 soft wheat flour
70 g of egg whites (2 egg whites)
60 g of extra virgin olive oil (3 tablespoons)
60 g of coconut sugar
1 g of cinnamon
10 g of grated untreated lemon zest
2 g of vanilla bean seeds
8 g of baking powder
Cold water as required and if needed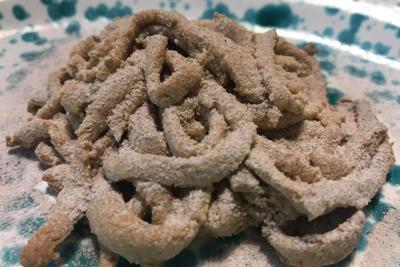 Method:
Preheat the oven to 150 ° C static mode. Reduce into powder the coconut sugar in a blender and set aside 10 g in a bowl.
On a pastry board arrange the flour, 50 g of icing coconut sugar, vanilla, lemon zest, cinnamon, yeast and mix everything evenly.
Add the EVO oil, kneading the mixture, so that the oil is evenly distributed.
Create a fountain and in the center put the beaten egg whites slightly. Knead until a smooth and homogeneous mixture is obtained, adding a little cold water if necessary.
With a rolling pin, pull the sheet about 3 millimeters high. Leave the dough to rest for about 30 minutes and then cut it to obtain the noodles 3-5 mm wide.
On a baking plate, already covered with parchment paper, form 8 nests of noodles of equal size.
Bake in the oven for about 15-20 minutes until golden brown. Once baked, sprinkle the nests with the icing coconut sugar that you had kept aside.
Nutritional values ​​per recipe and per person
Kcal

Proteins (g)

Carbs (g)

Sugar (g)

Fats (g)

Saturated (g)

Mono-insaturated
(g)

Polin-saturated (g)

Fibers (g)

Wheat flour Verna

688

24

144

0,6

3,6

0,6

7

Coconut sugar

240

0,6

57,6

57

0,6

Egg whites

36,4

7,70

0,49

0,49

0,14

Evo oil

530

59,78

8,46

43,8

6,6

Vanilla bean seeds

5,76

0,25

0,25

Lemon zest

4,7

0,15

1,6

0,4

0,03

0,01

1,1

Cinnamon

2,47

0,04

0,81

0,02

0,01

0,003

0,002

0,53

baking powder

4,24

2,21

Total per recipe

1511,6

32,49

206,96

58,66

64,16

9,06

43,8

6,61

8,63

Total per person

189

4,06

25,87

7,33

8,02

1,13

5,47

0,82

1,07
Articolo a cura di:
Dr.ssa Nicoletta Bocchino – Nutrition Biologist

The food recommendations in the article are not intended to replace a personalized food plan and are to be adapted to specific cases.
Photo: 123RF Archivio Fotografico: 44128509 @Paul Grecaud /123rf.com