Sage-flavored onion sauce

Onion is a food with often neglected beneficial properties, due to its strong and permanent taste. However, if we choose a delicate variety such us the DOP of Acquaviva, or the red of Tropea, both rich in anthocyanins, powerful antioxidants, we will discover the pleasantness of its delicate flavor and its never intrusive perfume. The benefits of this bulb are countless: it is a food that expresses anti-inflammatory properties because it contains phytonutrients, the thiosulfates, which block the enzymes that activate inflammation. If seasoned properly, the onion can become a tasty food as well as healthy. We propose it in sauce, seasoning of different dishes. The same recipe can be made with garlic, which has properties very similar to those of onions, but a stronger taste not always appreciated.
2 Acquaviva or Tropea's onions (100 g)
3 tablespoons of extra virgin olive oil (45 g)
5 sage leaves (3 leaves about 2 g)
4 cloves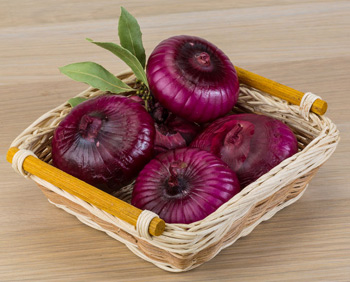 Preparation:
Remove the outer part of the onions and place two cloves on each one. Place in a parchment of baking paper together with 3 sage leaves and leave to dry in the oven at 150°.
Take out the dried onions, remove the cloves and sage leaves then let cool and put in a blender together with the three tablespoons of extra virgin olive oil and, if necessary, a very small amount of water. Blend. Put it in a bowl and season with the other three finely chopped sage leaves. Season with salt (just a little!).
Use the sauce to flavor the meat.
Nutritional Values ​​for the recipe (150g di product):

Kcal

Proteins
g

Carbs
g

Sugars
g

Fats
g

Saturated
g

Mono-
unsaturated g

Poly-
unsaturated
g

Fibers
g


Onion

80

2,2

9,3

4,2

0,2

0,082

0,026

0,034

3,4

Extra Virgin Olive Oil

397

–

–

–

45

6,21

33

4,7

–

Sage

6,3

0,21

1,2

0,03

0,25

0,21

0,04

0,03

0,8

Total

483,4

2,41

10,5

4,23

45,4

6,5

33,06

4,7

4,2
Nutritional Values per portion (approx. 25 g of product):

Kcal

Proteins
g

Carbs
g

Sugars
g

Fats
g

Saturated
g

Mono-
unsaturated g

Poly-
unsaturated g

Fibers
g


80,5

0,40

1,67

0,70

7,56

1,1

5,51

0,8

0,7
Article by:
Dr.ssa Nicoletta Bocchino – Nutrizionist

The diet advises, written in the article, are not intended to be a substitute for a personal nutrition plan and should be adapted to specific cases.
Foto: 123RF Archivio Fotografico | @Andrey Starostin, @Andrea De Martin