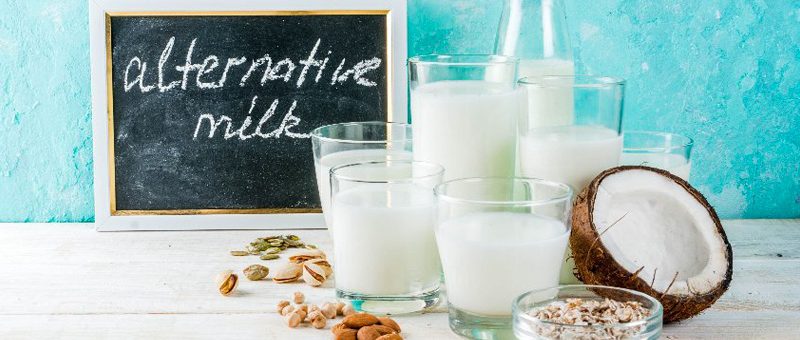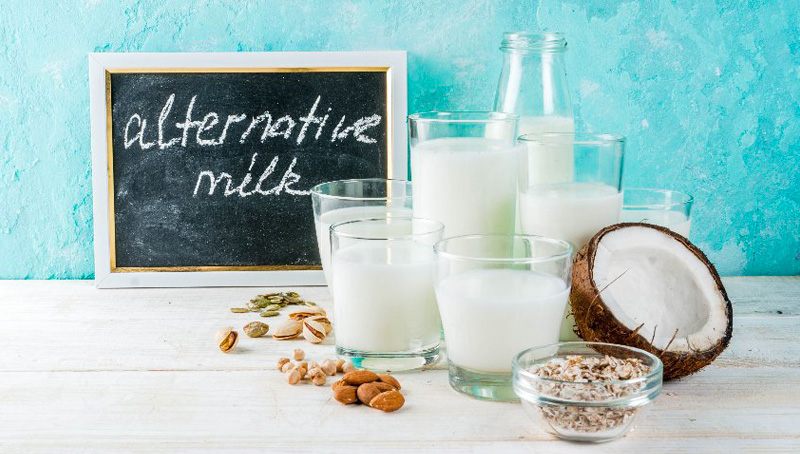 Almond milk, coconut milk, rice, oat or soy drinks are probably the best known and most fashionable vegetable drinks on the market today.
The last few years have seen a real boom in plant-based drinks, so much so that there are now entire shelves in supermarkets dedicated to them and their derived foods.
There are many reasons why consumers buy these products:
milk protein allergy
lactose intolerance
vegetarian and vegan diets
reduced consumption of saturated fats
curiosity and experimentation in the kitchen
Vegetable drinks are the starting point for numerous products derived from cow's milk: yoghurt, cream and béchamel, ricotta and cheese, and spoon desserts.
As a result, they find many applications in the kitchen, from the preparation of alternative breakfasts to pastries and the preparation of sauces and dressings.
What are vegetable drinks

In a ruling in 2017, the Court of Justice of the European Union banned the use for commercial purposes of designations such as 'milk', 'cream', 'butter', and 'yoghurt' for products of vegetable origin.
These designations are reserved for animal milk and its derivatives (the 'dairy' products). In Italy, there are exceptions for almond milk, cocoa butter and coconut milk .
In common language, we refer to "milk of" a beverage made from
cereals or pseudo-cereals (oats, rice, quinoa, buckwheat, etc.)
nuts (almonds, walnuts, hazelnuts, coconut…)
legumes (soya)
oil seeds (hemp seeds, sunflower seeds, pumpkin seeds…)
which are soaked for varying lengths of time, blended in water, in some cases boiled and finally strained.
The nutritional characteristics of the resulting drinks depend mainly on the starting ingredient and any others added during production.
In fact, on the shelves we find beverages with added vitamins and minerals to compensate for the natural scarcity of the raw material from which the juice is extracted and, sometimes, to simulate the properties of cow's milk (e.g. with vegetable fats, frequently from sunflower oil).
In addition, drinks are often sweetened with sucrose, glucose syrup or fructose.
Since, therefore, the nutritional values of the beverage depend on various factors, including the degree of dilution in water of the raw material used, the addition of micronutrients, and the nutritional qualities of the original fruit or seed, in general, we recommend being take in consideration the following for an informed choice:
1) the percentage of seed/fruit/cereal in the beverage. This allows us to have an estimate of the micro- and macronutrients derived from the raw material and not from later additions;
2) the length of the ingredient list. Flavorings, colorings and stabilizers are often added to give consistency or a better taste. Products with the fewest ingredients, ideally only two (the fruit/seed/cereal + water) are undoubtedly to be preferred;
3) calcium and vitamins B and D are often added artificially to increase the nutritional value of the drink. These additions are not permitted in organic products;
4) drinks made from cereals (rice, oats) are low in fat and protein and rich in carbohydrates. In these cases, simple sugars can exceed 10%, resulting in a high glycemic index of the beverage. Due to their naturally low fat content, these drinks are fortified with vegetable oils, often sunflower oil;
5) drinks made from legumes (soya) and dried fruits (almonds, hazelnuts) are naturally richer in protein.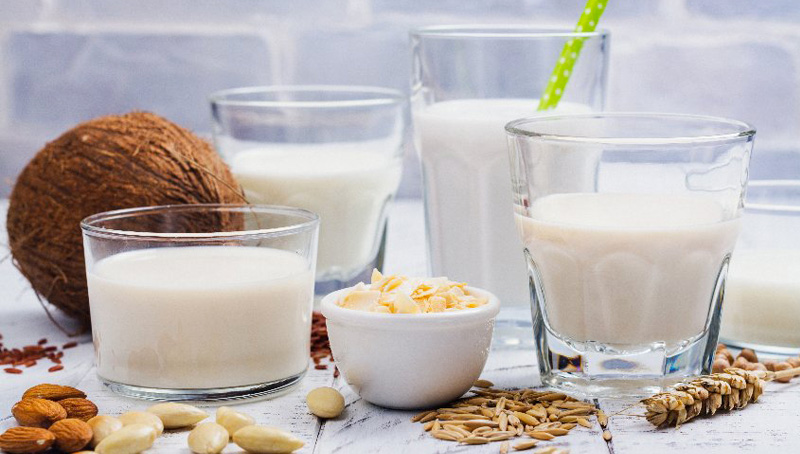 The principle behind lipidomics is the balance between the lipid components of the cell membrane.
Saturated, monounsaturated and polyunsaturated, omega-3 and omega-6 fatty acids, in the right amounts and proportions, enable the natural functioning of the cell membrane, which is indispensable for the proper functioning of the cells and tissues that make up the human body.
• VEGETABLE DRINKS rich in SATURATED FATTY ACIDS (SFA)
COCONUT MILK
The only fats contained in coconut milk are saturated, short, medium and long chain fats. While the former appear to have a positive role on the gut microbiota, from a lipidomic point of view, the consumption of palmitic acid (16:0) and stearic acid (18:0) should be kept as low as possible.
TOTAL FATS: 2.08 g
saturated fat: 2.08 g
monounsaturated fat: —
polyunsaturated fat: —
SFA/MUFA/PUFA ratio: 100/0/0
• VEGETABLE DRINKS rich in MONOINSATURATED FATTY ACIDS (MUFA)



ALMOND MILK
Rich in magnesium, potassium and calcium, it is also a fiber-rich drink. Pay attention, however, to the actual amount of dried fruit used in processing the product in order to benefit from its nutritional properties.
TOTAL FATS: 0.96 g
saturated fat: 0.08 g
monounsaturated fat: 0.59 g (oleic acid 18:1 omega-9)
polyunsaturated fat: 0.24 g (linoleic acid 18:2 omega-6)
SFA/MUFA/PUFA ratio: 9/65/26
HAZELNUT MILK
It is a drink rich in essential amino acids, minerals, antioxidants, vitamin E and B.
TOTAL FATS: 3.2 g
saturated fat: 0.2 g
monounsaturated fat: 2,5 g
polyunsaturated fat: 0,5 g
SFA/MUFA/PUFA ratio: 6/78/16
• • VEGETABLE DRINKS rich in POLYNSATURATED FATTY ACIDS (PUFAs)

SOY MILK
This is a drink rich in vitamin B2 and copper.
Of all vegetable protein sources, soya is the legume richest in essential amino acids and, for this reason, soya milk is closest in protein content to cow's milk.
TOTAL FATS: 1.47 g
saturated fats: 0.2 g
monounsaturated fat: 0.4 g
polyunsaturated fat: 0.9 g (of which linoleic acid 18:2 omega-6 0.6 g and alpha-linolenic acid 18:3 omega-3 0.08 g)
SFA/MUFA/PUFA ratio: 14/26/60
•  VEGETABLE BEVERAGES with other lipidomic relevant characteristics
One aspect that we want to take in consideration in this review is the effect of foods with a high glycemic index on lipidomic balance. This is mainly due to two reasons:
1)   through insulin signaling, the biosynthesis of saturated fatty acids (palmitic acid first and foremost) is promoted, leading to a slowdown in liver function and promoting a condition of insulin resistance.
2)   High blood sugar levels promote inflammatory and oxidative states.
RICE MILK and OAT MILK have a higher sugar content than other nut-based vegetable drinks, 9.2 g and 10.6 g respectively. However, their glycemic index is, respectively, 85 (high) and 40 (moderate), prompting us to prefer the consumption of oat milk.
Rice milk, with its sweet taste, is often used added to other vegetable drinks as a natural sweetener.
Article by the editorial team of Lipinutragen

The information provided must in no way replace the direct relationship between health professional and patient.
The food recommendations in the article are not intended as a substitute for a personalized meal plan and are to be adapted to specific cases.

Photo: 123RF Archivio Fotografico: 93977804 : ©bondd; 92140955 : ©happylark;